Today, November 11, 2014, marks the soft launch release of DestinyQuest Infinite: Act 1.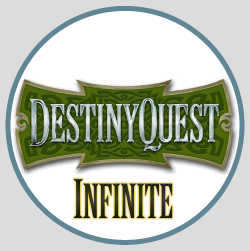 Buy it here!
What's a soft launch?
The first act of DestinyQuest Infinite is not perfect, but it's finished, working and ready to release. Instead of locking it up in a tower while we do the final polishing, we decided it'd be more fun for everyone if we put the game into your hands on Tuesday! This way, we'll give the game the acid test before the official January launch, and you'll get to play the game NOW, instead of waiting.
We can't make DestinyQuest Infinite a great gamebook without your help. Join us on the journey!
By purchasing the game at the Soft Launch, you are getting instant access to play a late beta version of the game. This means things may break, but it also means you will see the game evolve and watch new things get added. But we can't do it without you – as early players of DestinyQuest Infinite, we're counting on you to join the conversation. If you have anything to say about DQI – Are you encountering problems? Features you wish it had? Stuff we're doing right? – let us know:
Tell us on the forums.
Email us.
However you get in touch with us, we'll be listening.
The Inner Circle
By getting the game early, you will also get a chance to participate in the Inner Circle program. This is a one month Kickstarter-like period where you'll be able to get special items of limited quantity, like an artbook, poster, or even a chance to get your own quest in the game.
If you're unfamiliar with how Kickstarter works, check this out. Unlike Kickstarter though, you'll be able to play the game right away, regardless of what tier you pick
Start your adventure!
Buy the game or check out the Inner Circle right here.
11
Nov
Posted:
November 11, 2014 Tuesday at 10:00 am